Look What We Found in Our Mailbox
Fri, 03/12/2021 - 11:00am
You can read the whole thing below, but it looks like carp. Click on this link to get the full magisterial Salty Paws experience: Salty Paws: The Marching 2021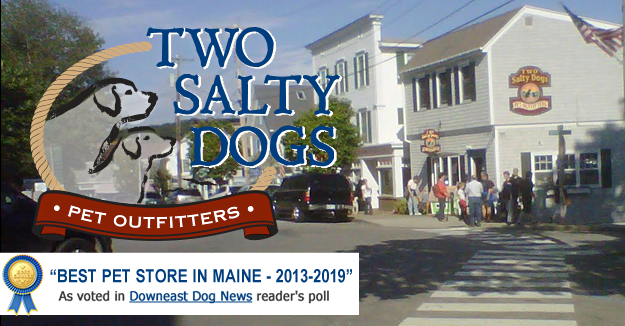 The Salty Paws                              March 2021
If I have ever made you angry to the extreme, I suggest you come and fight me in these next couple of weeks. My left rotator cuff is shot and my right elbow has bursitis. I can barely lift either arm to defend myself.
Please punch me in the face or the gut. Punching me in the left shoulder, right elbow, kidneys, liver, or groin is RIGHT OUT.
So give me a call or fire off an email and I'll try to get you on the schedule. It's filling up fast. Remember- if you don't have an appointment, it's called 1st degree assault.
------------------------------------------------------------------------------------------
WE LOVE HATE MAIL!
Technically, this isn't mail, but what in this section ever has been?
Woman in Store Pushing Random Product Into My Face -- "IS THIS GOING TO HURT MY DOG?"
Responses:
1) "I only sell things that will kill your dog, lady."
2) "It hasn't hurt one of my dogs since lunchtime."
3) "It depends on how hard you hit him with it."      
4) "I am too much of an inbreed to understand your question fully. Could you please rephrase it using fewer syllables and about 150 fewer decibels?"
5) "You can always get another dog."
6) "You mean physically, or his feelings?"
And so forth....
Dog Bless.
~ Don (Not a Dog)

The Coal Shack
People definitely DO read this little preamble of the newsletter. TONS of people used the coupon code I tried to bury here. Some people didn't even use another code. And that's just plain nutty.
No. I'm not going to put another one here. It can't be Christmas every day, people. Maybe at the North Pole, but not in the Boothbay Region.
I'll let you know in this section if I try to hide another coupon code in the newsletter.
 
---
Boilerplate:
If you haven't joined us here before, this is the part of the newsletter where we highlight our web-only deals for the month. That's right! These specials are available ALL MONTH LONG, and EXCLUSIVELY to you guys - our rabid newsletter-getters! Of course I throw it up on Facebook mid-month. And if you forwarded this to people you know and they bought stuff with the codes, we would have no way of knowing. So have at it!
And remember all you Boothbay Region Locals - these aren't shop specials. You need to buy them from the website and come in and get them! Or I can mail them to you. Or I can drop them off. Whichever you prefer, just let us know in the "Ordering Instructions" part of your Shopping Cart
---
SEA JERKY - CHICKEN - 15oz

Normally, I try to make the specials as widely appealing as possible. I'm leading off with this one because we bought WAAAAYYYY too much of this stuff this month because of an accounting (wife) error. Now I'm trying to get rid of all these Sea Jerky 15oz bags. Notice that I am being VERY specific here. Please don't email me and tell me the code won't work for the Beef Sea Jerky 45oz. I will lose whatever faith I have in humanity and become a hobo. And if it DOES work, I'm not going to honor it. Don't act shocked.
Sure, you could buy a 45oz bag of Chicken Sea Jerky for $57.75. OR you could put on that cute little thinking cap and buy THREE 15oz bags with the coupon code for only $53.55. That's a savings of $4.20 you can use to hire an exterminator for the stink beetles hiving in the utility closet.
Great for arthritis, achy bones and joints, made in Maine, etc. etc. etc. It's for DOGS. Don't eat them yourself, knucklehead.
CHICKEN SEA JERKY - 15oz 
NOW 35.67567568% OFF
Use Coupon Code: STINKBEETLE
<< Click HERE >>
---
I say it all the time: Winter is the time I get stuff done. Sure, I'm in the shop six days a week, but there aren't hordes of tourists with ice cream and drawn butter stains down the front of their shirts coming into my shop and asking me where they can get a Tide Stick.


DON'T EMAIL ME AND ASK ME WHERE THE OTHER PHOTOS OF THE GRAY AND BLACK SHIRTS ARE. I HAVE NO CONTROL OVER THE CONSTRAINTS OF MY E-COMMERCE PLATFORM (21 photos). You'll just have to use the imagination your schools and employers tried to crush over the decades to visualize it.
Great, now I'm all worked up and need to get a shot of Ouzo and yell at the neighbor kids playing with the polecats on my lawn. Maybe I'll drink the Ouzo myself and go play with the polecats.
See the first iteration of our new and improved T-Shirt webpage. It's new and improved because we now have:
-- 8 colors (4 more from previous)
-- 4 different Logo placements (3 more than previous)
-- 2 different-sized Logos (1 more than previous)
-- A new, slick, and compelling webpage (1 more than previous)
-- A T-shirt color called "Watermelon" (Awesome).
I know the web category "T-Shirts" might look a little sparse now with only short-sleeved options, but my goal is to add Long Sleeve-No Pocket, and Long Sleeve-Pocketed T-Shirts on the website by April. Also sweatshirts, but don't push it unless you want me to give the polecats more booze.
As always, our T-shirts are made right here in Boothbay Harbor by BBH Apparel, so your purchase supports two small business in the Harbor.
And yes. I am the model in all the photos.
---
 SMOKED DOG BONES
 

I should probably be clear. These aren't Smoked Dog Bones. A more appropriate name would be: "Smoked Beef Marrow Bones for Dogs to Chew On For Hours and Hours When You Need To Get Some Actual Work Done." Nice try, sicko. Like I would sell actual Dog Bones for dogs to chew on.
And please don't be one of these people who look at me like I'm the
equivalent of John Wayne Gacy for selling marrow bones to dogs. I'm sorry if your dog chipped a tooth on one, but my dogs are just fine with them and have been for a long time. If your dog can't handle a marrow bone, don't get her one. It doesn't mean it isn't appropriate for ALL dogs.
You really should pay less attention to what I'm doing, unless it's the second crappy photo of all the bones. You should pay more attention to how your dog reacts to things like tractors and porcupines. Just saying.
---
Sniffin' Around
The Boothbay Region



2RPWCITBRLTPGAFBOBBC

--or--

2 Random People Who Correctly Identify This Boothbay Region Land Trust Preserve Get A Free Bag Of Bare Bites Challenge

When: All March Long

Where: At Two Salty Dog's World-Famous Website

Congratulations to Wendy B. and Ari L. The correct answer to last month's challenge is "Zak Preserve at Wildcat Creek." Those who didn't get the full answer were denied.

Feel Lucky?

Test your knowledge of the Boothbay Region Land Trust Preserves in a Do-or-Die, Winner-Take-All Killfest for scrumptious Bare Bites! Good Luck! We'll also announce the winners from last week! Could you have won? Well, not if you didn't play, Knucklehead.

WE post a photo of a Boothbay Region Land Trust preserve (above). YOU be a person who guesses the BRLT preserve correctly. If your correct guess is drawn out of a filthy gunnysack with all the other correct answers, WE give YOU a FREE 3oz bag of Bare Bites! It's THAT simple! We'll even mail it to you!

Click here or on the photo above for a higher resolution photo and email me at: fatmax@twosaltydogs.net with your answer and all the information necessary to steal your identity. One guess per entrant per month, please.

 




When: Saturday, March 20th
12 - 4pm

Where: Island Dog Brewing
125 John Roberts Rd.
South Portland, Maine

 

 

This is my kind of fundraiser. All you need to do is buy beer. Old Dogs New Digs and Island Dog Brewing will take care of the rest.

Island Dog Brewing is releasing its Silverhound Pale Ale with 10 photos of senior dogs looking for forever homes.

With similar donations from Blue Ox Malthouse, State 64 Canning and Amherst Label, Island Dog will be able to donate an amazing $10 from every four pack sold directly to Old Dogs New Digs.

Volunteers from Old Dogs New Digs will be on hand to discuss fostering and adoption. There will also be a raffle and other fundraising opportunities.

Old Dogs New Digs is a 501(c)(3) nonprofit organization, comprised of volunteers dedicated to helping homeless and displaced senior dogs. ODND partners closely with shelters and rescues to place these senior dogs in a loving foster or forever home. 100% of funds raised support the health and well-being of these dogs.

 

 
 

Max and Aug's Dog Blog
I could probably put a picture of any of my dogs or a random dog here and nobody would notice. Well, a couple people would. David Forster would. But that's about it. And David remembers their birthdays. Anyway, I swear to you that this is a picture of Buddy.
Buddy is almost 109 in dog-years if you buy into that kind of thing. I'm not sure how he keeps going. His circle has been getting smaller and smaller lately. The only thing that will get him up from his bed is food. It's certainly not to pee or poop.
He's still Buddy. He still plays High-Fives. He still bares his belly for a good rub. He still smells weird and poops twice.
And I love his writing style- Simple. Lovable. Dumb. Innocent.
In his latest blog, Buddy rambles on and on and muses about why I don't have any friends.
So grab a cup of cocoa or fortified wine and click on "Pooppaste

"

-by Big Dumb Buddy.